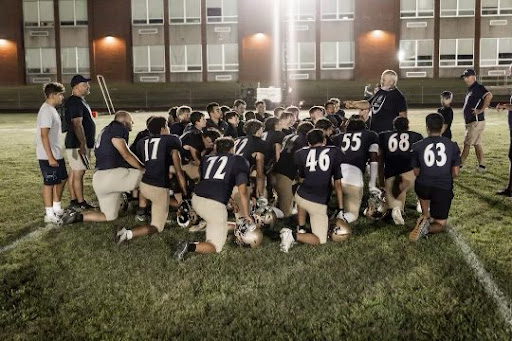 In July, Lower Moreland hired Dominic Gregorio to take over as the Head Football Coach for Lower Moreland High School. Coach Dom brings a wealth of football experience to the program; his last coaching position was as the Head Coach of the George School, a team that Lower Moreland has traditionally played in past years.
In total, Mr. Gregorio has 14 years of experience as a football player in addition to 26 years of experience as a football coach.  He attended Bishop McDevitt, a Catholic high school in Glenside, PA and played football there for four years then was added to the Football Hall of Fame for the school in 2017. After high school, Mr. Gregorio attended Valley Forge Military College, where he played football for an additional 2 years as a middle linebacker for the Varsity team. Currently, Coach Dom's favorite football team is the Philadelphia Eagles (though he loves the ambition and eagerness of the players on his own football team).
Mr Gregorio and his wife have six kids aged nine to fifteen and despite his fear of scary dogs, he has one GoldenDoodle named Ace. Coach Dom has a plan to continue coaching for Lower Moreland for the long term. If you see him walking the halls of LMHS, feel free to say hi!