Spring Track Comes to an Exciting Close
The end of the 2023 Spring Track and Field season is quickly approaching. Tuesday, May 2nd marked the LM Track and Field team's last league meet against Springfield and Holy Ghost Prep and the end of the season for many. Nevertheless, the season has been exciting and fulfilling for the whole team, and many people have set new personal bests. 
After the meet on the 2nd, the athletes and their families enjoyed dinner together and celebrated Senior Night. Practically the entire team worked on posters displayed in the cafeteria that honored the seniors, and many teammates gave heartfelt, thoughtful speeches for those 13 athletes: Jack Becker, Barton Cooper, Ava Devlin, Michelle Hall, Siri Hellenbrand, Tim Kim, Anna Mazik, Brian Pagano, Melina Papanikolaou, Nick Pujato, Evelyn Suh, Shae Woods, and Sophia Zalipsky. With many of the seniors having been a part of the team for multiple years, it is hard to imagine what the team will look like without them.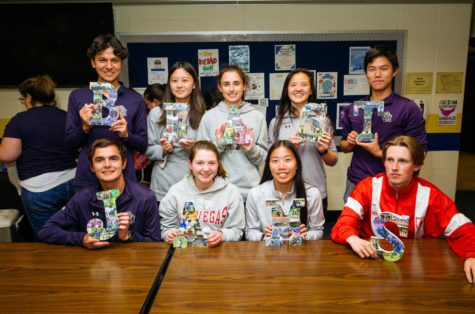 The LM seniors celebrating senior night
Up ahead are the SOL League Championships on May 12th and 13th and the possibility for more athletes to qualify for Districts. Coach Greg Green has worked hard to get multiple athletes to qualify for Districts; the girls' 4×800 relay team (Kennedy Durand, Siri Hellenbrand, Anna Mazik, and Amelia Ogawa) already qualified on April 28th at the Penn Relays, setting a PR of 9:31 in the process. 
Amelia also qualified individually for the 1600 with a time of 5:07. In the 3200, she qualified with a PR of 11:06 at the Montgomery Memorial Invitational on May 4th. Likewise, Kennedy qualified for the 800 at the Montgomery Memorial Invitational with a time of 2:20.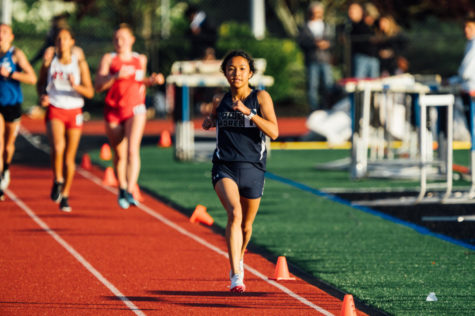 Amelia Ogawa breaking the school and meet record in the 3200
When asked about her emotions heading into Districts and States in the upcoming weeks, sophomore Kennedy Durand responded,  "I am excited and nervous at the same time for the next few weeks! It's already sad knowing that Siri and Anna are graduating soon, and the 4×800 won't be the same without them. But the four of us are going to try to push as hard as we can in training the next couple weeks to hopefully get to states and win a medal."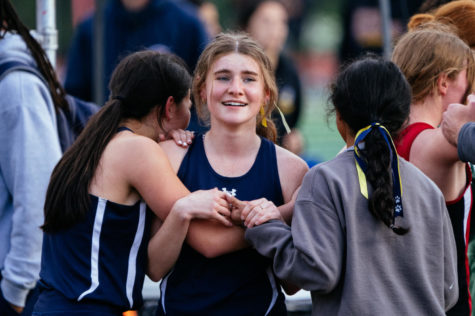 Kennedy Durand after finishing the open 800 that qualified her for districts
Clearly the 2023 track season has already had an abundance of victories, and both the boys and girls teams are eager to compete at Leagues. Many of the team's runners have been training hard since the summer, and the last couple meets of the season have showcased their hard work and dedication paying off with great results. Good luck to everyone competing at Leagues and Districts! Go Lions!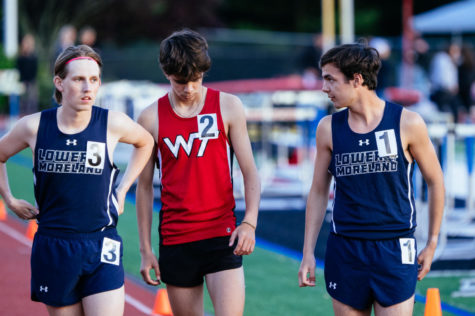 Seniors Jack Becker and Shae Woods getting ready to run the 3200