Bryce Harper: 2021 National League MVP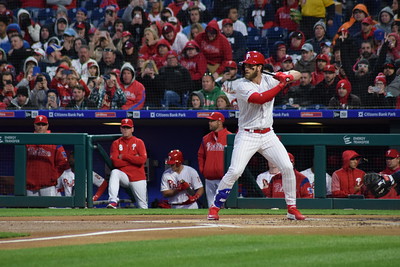 Although the Philadelphia Phillies recently fell short of the postseason for the 10th consecutive season, this year's regular season was not all a disappointment. Many players were injured or struggled during the season, but one player stayed strong and carried the team on his back down the stretch. Right fielder Bryce Harper started off slow in his 2021 campaign. After not being selected to the All-Star team for a 3rd consecutive year, he was able to use that as motivation and turn his season around in a big way. He finished the season with 42 doubles, 35 home runs, 84 runs batted in, an on-base percentage of .429, a batting average of .309, an on-base + slugging percentage (OPS) of 1.044, and a Wins above Replacement (WAR) of 6.4. When the Phillies signed Harper in February of 2019, this is exactly what the franchise and its fans hoped for. While the team's playoff drought continues, it is not due to a lack of production from number 3. 
The race for National League MVP seems to be tight, but Harper appears to be leading the pack. Other candidates include San Diego Padres star shortstop Fernando Tatis Jr. and Washington Nationals star Juan Soto. Some may argue that Harper does not deserve the Most Valuable Player award because his team failed to make the playoffs, but both Tatis and Soto's teams finished with worse records than the Phillies and missed the playoffs as well. 
While the stats between the three players are very close, Harper has been playing in more meaningful games throughout the season. Soto's Nationals were sellers at the trade deadline and were out of playoff contention since the middle of July. Tatis's Padres were projected to be World Series contenders, but due to the lack of defensive production from Tatis, as well as him being injured for an entire month of the season, they were well out of postseason contention. The Phillies, on the other hand, were fighting for a playoff spot throughout the entire season. They were in 1st place for parts of August and just games behind the Braves for all of September. 
Some key moments from Harper's impressive season include a 5-hit game at Wrigley Field on July 6th, a go-ahead home run against the New York Mets on August 6th (which helped to continue the Phillies 8-game win streak), and a 3-hit game, including 2 doubles, 1 home run, and 4 runs batted in, against the Cubs on September 16th.
Even Mike Schmidt, arguably the greatest Phillie of all time, said, "The National League MVP is Bryce Harper, who on August 1st put his team on his back, became the best player in the league, and stole it." Harper won a Most Valuable Player award in 2015 with the Nationals. This year, all signs point to him winning the second of his career, and his first as a Phillie. After his third season in Philadelphia, Harper seems to be worth every penny.