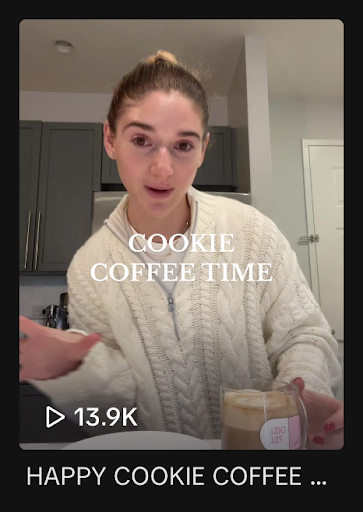 Take a seat and join me. Grab your favorite cookie and a cup of coffee as I introduce you to Jordanna Drazin, a powerful voice and an inspiration.
On October 12, 2023, I was granted the  opportunity to interview Jordanna Drazin, a lifestyle influencer, also referred to as @Thedailyschvitz across all social media platforms, including Instagram and TikTok. I wanted to reach out to Jordanna to ask the questions, "Why and how?" Why do you use social media as a platform? And how do you use your voice to impact the world? So, I did.
Jordanna has accumulated over 43.2 thousand followers and 4.0 million likes by being a comforting voice and creating a virtual community. I have found Jordanna to be a friend, even if that is through my virtual glass screen. Due to her steadfast devotion to her followers, Jordanna creates content with a particular niche in mind: "Cookie Coffee Time." When I asked Jordanna about the origins of "Cookie Coffee Time," she joyously replied:
"Well, for starters, I would like to thank my mom for introducing me to her version of 'Cookie Coffee Time.' It consists of my fond memories of her sitting at the kitchen table nibbling at her crummy cookies and sipping a mug of warm coffee with nothing but a pure smile, something so simple, yet so comforting." However, when elaborating on her take on "Cookie Coffee Time," Jordanna openly expressed, "During quarantine, I was baking a lot […] searching for little ways to find joy during the darkness, and I remember every day looking forward to having my sweet treat with my coffee (like my mom did), and it did bring me such immense joy, so I just started referring to it as 'Cookie Coffee Time.' A big part of 'Cookie Coffee Time' originated when I was in such a disordered state of mind that I could only eat dessert at night after I had been 'good all day,' or I could only eat dessert if I had 'earned it,' and I focused so heavily on these rules. However, I decided that I could celebrate these foods instead of ceding them so much power, so I did. I wanted to share the little things in my life that bring me joy, so I turned to social media to inspire, educate, and celebrate!"
Following her explanation, I asked Jordanna if she could provide a piece of advice for adolescents who yearn to share their voices through the vast arena of social media, and she passionately replied:
"It is so important not to care what anyone thinks. I mean it. Find your voice and shout it. Finding the core group of supporters who lift you is a win. Plain and simple. Even if you impact one human being, you won."
Regarding advice, Jordanna leaves you all with this simple yet powerful message:
"The only thing that simply matters is being a good person. Be kind. Lead with compassion. Kindness will always win."
I would like to personally thank Jordanna for using her voice to share the power of kindness, an act that can change the world for the better. Thank you for being a unified voice—a true inspiration to many listening.
So, grab yourself a cookie and a hot or iced coffee, and remember that "you are stronger than you think, tougher than you seem, and braver than you could ever imagine." Embrace the little things in life, and lead with kindness. You got this!
Thank you, Jordanna! I hope that others will be inspired to follow your lead and your journey!