While there are many LMHS events to attend in the fall, students and community members should consider attending Notes of Hope for a night of great entertainment and to support a powerful cause.
The student-led event encourages students to display their musical talents through performances, and the event's proceeds are donated to a different charity each year. In past years, the earnings have gone to causes such as The Trevor Project (an organization that supports LBGTQ youth from discrimination) and The Nation Eating Disorders Association. This year's non-profit choice, Take Back the Night, is an organization dedicated to protecting women from forms of violence, such as sexual and domestic abuse, and to spread awareness of the issue.
The Notes of Hope heads, Ellie Lynch, Luke Cullen, Madison Heller, Eden George, and Kasey Lim, have worked hard this September to prepare the event for Thursday, October 19th. Junior head Eden George mentions, "I made a Google form to order t-shirts, hung up flyers with Kasey, created a performers list, attended group meetings, and spread the word about NOH in general!"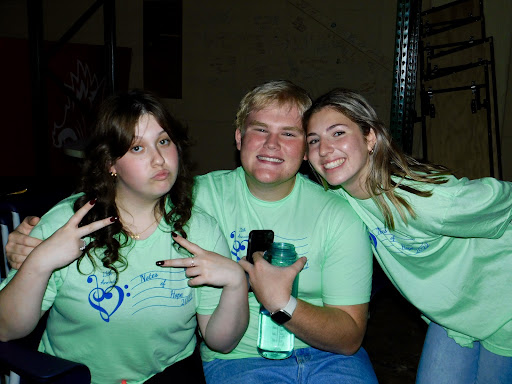 Notes of Hope Heads Madison Heller, Luke Cullen, and Ellie Lynch
The leaders of Notes of Hope also help raise money for the cause by organizing raffle baskets, baked goods to sell at the event, and shirt sales. This year's shirt colors are purple and pink. While the responsibility of being a head can be a lot, Eden states, "It's great to learn from the senior heads: Ellie, Luke, and Madison. I've been able to watch them do so much, which will hopefully help me if I choose to apply to be a head next year." The leaders also evaluate the audition videos sent to them, allowing them to create a setlist that keeps viewers engaged throughout the night with varying styles spread throughout the lineup.
The atmosphere at the event itself is full of enthusiasm and community. As performers take the stage in the auditorium and beams of multi-colored lights shine, they can display their musical talents to their peers and other onlookers. The event gives high schoolers room to express themselves and work together to organize pieces to perform. Eden expresses that her favorite part of Nopes of Hope is listening to the other performances: "I love hearing my peers express themselves musically for the first time, and I love that we're united to support a great cause." The great variety in the genres and styles of the vocal performances showcases the diverse talents of LM musicians. Those interested in attending the event should consider coming to support Take Back the Night and watch the talented musicians of LMHS perform!