LMHS Students Receive Covid-19 Vaccines
107 Lower Moreland High School students received their first shot of the Pfizer-BioNTech Covid-19 vaccine on Saturday, April 24 at the school's vaccination clinic. 519 students were eligible for the vaccine, and it is not known how many have been vaccinated independently of the school's clinic.
On Thursday, April 15–two days after Governor Wolf made the vaccine available to all Pennsylvanians over the age of 16–Superintendent Scott Davidheiser emailed the community asking if anyone had connections that could help the district partner with a pharmacy to host a vaccination clinic. Just four days later, on April 19, the district announced a partnership with Eric's RX Shoppe, a pharmacy in Horsham, Pennsylvania. Marc Ost, a 2003 LMHS graduate, co-owns the pharmacy and reached out to Dr. Davidheiser earlier that day to organize the clinic.
Over the next few days, parents scheduled their students' appointment times, and several community members volunteered to administer the vaccines. At 3PM on April 24th, registrants began arriving at the high school. Students over 18 did not need to be accompanied by a parent. After showing their identification and insurance cards, they entered the high school gym, where they received their shots and then sat on the bleachers for a 15 minute waiting period.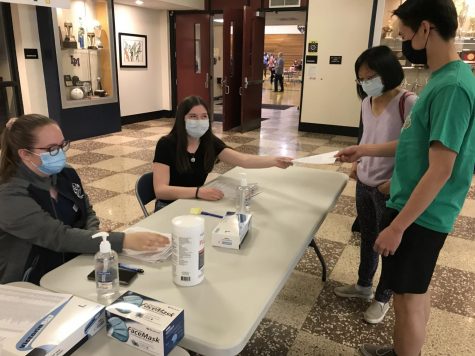 "I am thankful to the district for organizing this clinic," said senior Jake Grinshpun, after receiving his shot. "It helped me get the vaccine earlier than I otherwise would have."
The students are scheduled to receive their second doses on Saturday, May 15.