Restaurant Review: Where the "Ice" is Nice!
Richman's Ice Cream & Burger and Yardley Ice House
With summer quickly approaching, here are two dessert recommendations to help you beat the heat.
Richman's Ice Cream & Burger Co.
Richman's Ice Cream & Burger Co. is a local ice cream shop located at 379 Bustleton Pike in Feasterville, PA. Richman's is best known for two dessert items: the Banana Split and its famous Specialty Sundaes. Its most popular dessert is the Banana Split ($8.99), featuring a choice of ice cream, fresh sliced banana, pineapples, strawberries, crushed cherries, and candied walnuts. This already packed dessert also includes chocolate syrup, whipped cream, and a cherry on top. 
Richman's second most ordered items are the Specialty Sundaes, such as the #9 Cannoli Sundae, which features a cannoli filling and shell, chocolate chips, whipped cream, and a cherry. My favorite Specialty Sundae that Richman's offers is the #7 Cookie Dough Sundae, which includes cookie dough ice cream, hot fudge, chocolate chips, whipped cream and, of course, a cherry on top.  The All Specialty Sundaes are $6.99 and are served in a waffle bowl. 
In addition to ice cream, Richman's serves burgers, fries, chicken tenders, and even water ice. In fact, Philadelphia Water Ice Factory is a sister company of Richman's. 
Yardley Ice House
In 1994 John Bissert and his wife, Susan, opened Yardley Ice House, located on 77 South Main Street in Yardley, was started. The couple wanted to open a gourmet water ice shop with flavors that were unavailable anywhere else. At first, the couple's only employees were their children. Susan used her design skills to spruce up the shop, while John used his financial skills to keep the operation running. Now they have the BEST water ice in town, and people come from all around to taste the deliciousness.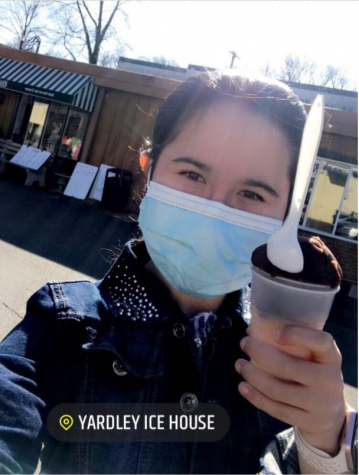 Currently, Yardley Ice house has a table set in the parking lot of their shop and requires customers to wear a mask when ordering. Yardley is known for having a rotating selection of unique water ice flavors which they create by mixing their water ice with ice cream. When I visited, they offered 17 different flavors including "Banana Cream Pie" and "Mounds Bar." They are also known for putting pieces of mix-ins related to the flavor in their ice. 
My dad always orders Yardley's classic flavor "Cherry Bordeaux," with its delicious black cherries. Another bonus is that the servers always scoop a generous amount and leave a little extra yumminess on top of the cup. When I go with my family, I usually order a small mix of "Chocolate Chocolate Chip" (chocolate with chocolate chips in it!) and "Mango." My grandmother's favorite combo is Cappuccino and Chocolate Peanut Butter Cup, which has whole pieces of Reese's Peanut Butter Cup in it. All of the flavors feature different ingredients that no other water ice place can deliver. A small water ice is $2.20, a medium $3.30, and a large $4.40. 
So, which one should you go to? If you're looking for a flavorful cup of great water ice, I would definitely recommend Yardley Ice House, but if you're in the mood for ice cream or a meal, Richman's is the way to go!