Book Review: Six of Crows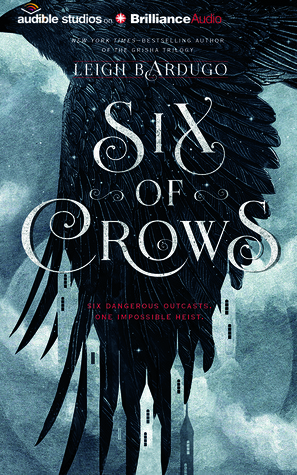 Six of Crows, written by Leigh Bardugo, tells the story of a crew of teens trying to pull off a seemingly impossible heist. Set in the fictional Grishaverse, the story takes place in a city called Ketterdam, home to all sorts of people: criminals, businessmen, refugees, and Grisha, people with the ability to manipulate types of matter. Kaz Brekker, a young criminal prodigy, gathers a crew of five uniquely skilled teens to break into an impenetrable fortress known as the Ice Court. The fortress holds a scientist who recently created a drug that amplifies the powers of Grisha, but is also highly addictive. With the chance to get wealthy beyond their wildest dreams, the crew takes on the deadly task of rescuing the scientist and getting him back to their buyer. If they want to make it out alive, they must adapt to the Ice Court as well as each other. Their skills, courage, and trust in each other are put to the test by each challenge they face.
I would definitely recommend this book to anyone looking for a fun and entertaining read. But the book is not all action-packed fighting scenes and deadly situations. It also includes heart-wrenching backstories, amazing friendships, and even a little bit of romance. Though the first few chapters seem like a whirlwind of new terms, it is not very difficult to grasp the magical world that Bardugo creates. Each of the six characters is incredibly unique and complex, and every backstory is carefully blended into the events of the novel. The book is well-written and keeps the reader hooked with increasingly unbelievable plot twists. If you like fantasy, dangerous heists, or just teenagers trying to get rich, Six of Crows could be the book for you.