Winter Sports Season Starts with Uncertainty
This article was written before Governor Wolf announced new Covid mitigation efforts. On Thursday, December 10, he suspended winter sports from December 12 until January 4.
The 2020-2021 school year has been very different, to say the least. Many things have been put on hold or cancelled because of the coronavirus. But, Lower Moreland School District expects to have a winter sports season. The administration, coaches, and student athletes know that having an indoor sports season will be challenging, but all of these parties intend to make great sacrifices to ensure the safety of all involved. 
Under the direction of Athletic Director Matt Heiland, LMTSD was able to complete a full fall sports season at the high school level, with zero Covid outbreaks among the teams. When asked about the fall sports season, Mr. Heiland said, "There was a positive impact on our school community in the fall season with regards to having our student athletes participate, and we want to continue that this winter." Lower Moreland's AD hopes to give winter athletes the same opportunity fall athletes had while maintaining health and safety. This is obviously more challenging for winter sports because they are played indoors. 
When asked how Lower Moreland plans to ensure the safety of all parties involved, Mr. Heiland stated, "All athletes and coaches will continue to follow the health and safety measures that we have in place. This includes a daily pre-participation screening form that is filled out prior to practices and games. We will follow local and state orders with regards to mask wearing while on the sidelines and competing in events. Every winter athlete was given a mask to wear, so it remains important that we mask up, wash our hands, and remain socially distant when we can in order to be successful. It is important that everyone is doing the right thing both in and out of their sport." 
This season will look different compared to previous seasons for several reasons: a league change, a delayed start, a shortened season, and uncertainty about playoffs. The Lions will be moving from the Bicentennial Athletic League to the Suburban One League. This was planned before the coronavirus outbreak and provides a greater challenge and opportunity for our athletes. The delayed start to this season pushed tryouts to December 7th and competition to January 5th, which is after the winter break. The season was drastically shortened because of the delay. In order to not interfere with spring sports, the winter season will end at the time it usually does, around the 2nd week of February. Whether or not playoffs will actually occur this year is anyone's guess right now.
We asked some senior winter sports athletes how they felt the new Covid protocols would affect their teams. Jack Doneker, a senior captain of the basketball team said, "Conditioning will be affected because of less practices and playing with a mask on. Defense will be much more difficult as communication is a key to defense and communication will be limited drastically. It will be different playing without friends and family in the stands, adding that extra motivation."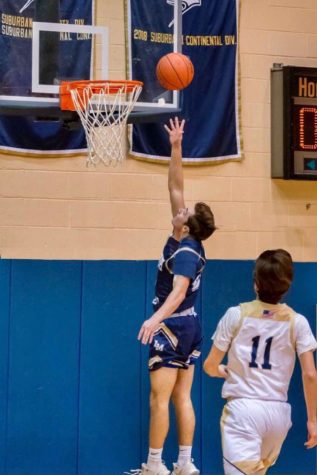 Noah Ferker, a senior captain of the swimming team said, "Not having a pool is the biggest issue. Swimming is a sport where it's really hard to stay in shape and ready for the season unless you're training. Covid protocols shouldn't make a huge difference besides the amount of people on the pool deck and wearing masks when we're out of the water."
Some may ask why Lower Moreland plans to continue their sports season amid the pandemic, but Mr. Heiland argues that "What's at stake here are our individual athletes' seasons, and for our seniors, it could be the last time they get an opportunity to represent their school, their community, and to wear the blue and gold. If we continue to do the right things, we take care of the things we can control, and we are smart about what we are doing, I do believe we can have a successful winter season." Clearly, Mr. Heiland is doing what is in the best interest of all individuals involved through maintaining safety and giving the senior athletes one last opportunity to create lifelong memories.