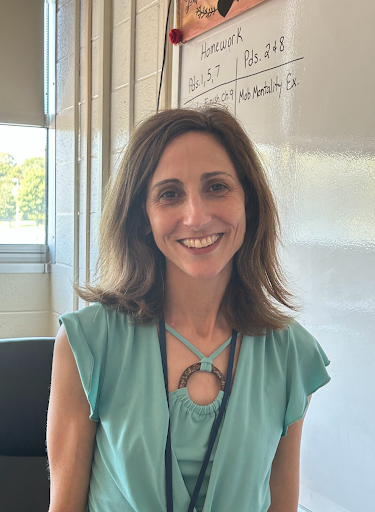 The start of the 2023 school year introduced new faces in terms of students and staff to the Lower Moreland High School community. A new addition to the staff is Mrs. Pugh, an English teacher who brings 20+ years of teaching experience and a love of writing and reading to the classroom.
Before becoming a teacher, Mrs. Pugh channeled her creativity as a writer by working in publicity for the publishing company Simon & Schuster. She also wrote for magazines, worked as an assistant editor for a bridal magazine, and did freelance work. She felt the pull to teach when working as a publisher in New York City. She reflects, "I started feeling that I wanted to contribute to the world in a more meaningful way. I wanted to be a positive influence in young people's lives." In 2001, she started her first teaching job and has loved it ever since.
In her free time, Mrs. Pugh enjoys reading and thrifting. She loves spending time with her family and often bikes with her husband and two daughters. Her favorite books are The Book Thief and The Glass Castle, which she feels allow her to immerse herself in another world. She also loves to read memoirs and nonfiction works by Malcolm Gladwell. Her favorite movies are Dead Poets Society and Life is Beautiful. Although she loves every lesson she teaches, her favorite unit to teach is writing. She says that creative writing "feeds the human spirit" and allows her students to express themselves in ways they did not know were possible. 
Mrs. Pugh loves to write poetry, which is an activity she has loved since she was a child. She says, "I love the creative process of writing. But of course, I love reading as well. The more you read, the better you can take the styles you're reading and try them out. And the more you write, the more you have this outlet where you can be like the authors you admire. They go hand in hand. I love to be immersed in a story and feel engrossed in that person's life. It can teach you about your own life." This love of the English language led her to receive her undergraduate degree in English and a graduate degree in elementary education. 
If she could tell her students one thing, it would be always to consider things from others' perspectives. This truth lies at the heart of the renowned novel To Kill a Mockingbird. Mrs. Pugh believes that if we were to try and understand others better, "We could be more forgiving, understanding, and I think, be able to have a more compassionate world," a sentiment we should all aspire to in our daily lives.