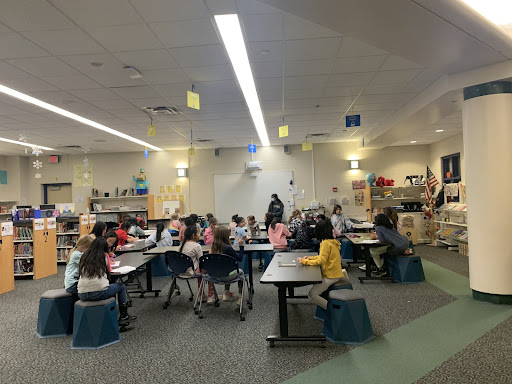 During her freshman year, Nidhi Ram, a current senior at Lower Moreland High School, was inspired to start something that would benefit the people in her community. So, she found a way to combine her passions for math and community involvement: Math 4 Girls.
Math 4 Girls is an afterschool program for girls and genderqueer fourth and fifth-grade students. They meet every other week, where Nidhi teaches them mathematical concepts, usually outside the classroom. Girls tend to lose confidence in their math abilities near the third grade, so mitigating these feelings through fun enrichment activities is at the forefront of Math 4 Girls' goals.
With the help of Mrs. Winters and Ms. Zschunke, Nidhi laid the groundwork for her vision and held the first Math 4 Girls meeting in April of 2021. She recalls telling her mom that she hoped ten girls would appear. There were 30 girls who attended that first meeting, eager to expand their math abilities and meet a role model who had the same passions as them.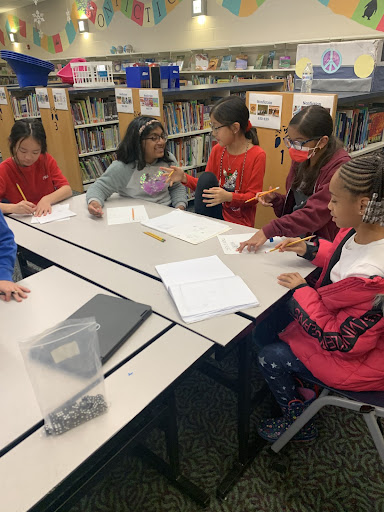 Girls engage in group projects to apply what they have learned
At first, Nidhi thought about turning the club into a competition team but quickly realized that a competitive environment differed from what the girls sought. Instead, she decided to focus more on exploratory math, ideas that connect to general topics taught in school but are presented more creatively. Through lots of trial and error, she devised a 15-week, detailed curriculum for the club. Nidhi realized that Math 4 Girls could reach far more if she expanded outside Lower Moreland.
At the end of her sophomore year, she emailed principals, superintendents, and teachers from all over Montgomery County, hoping to start Math 4 Girls chapters at neighboring schools. Ultimately, the schools had little interest, so she took a different approach: getting high schoolers to run the club at their elementary schools. Nidhi persuaded several students from various summer programs, tech groups, etc., to start their own chapters, and the club is currently in six schools nationwide. From Pennsylvania, New Jersey, Texas, and a club in the works in California, Math 4 Girls is reaching far more people than Nidhi had ever imagined.
At the end of her junior year, Nidhi created a team of 15 students, with several students from Lower Moreland contributing, including Liya Ma, Yuki Wu, Vivian Yang, Karen Zheng, and Gabriella Truong. They plan to become a nonprofit organization, which will help them expand their reach, apply for grants, and access necessary resources. During this time, Nidhi also created a website to explain Math 4 Girls' mission and make it easier for students to develop their school branches.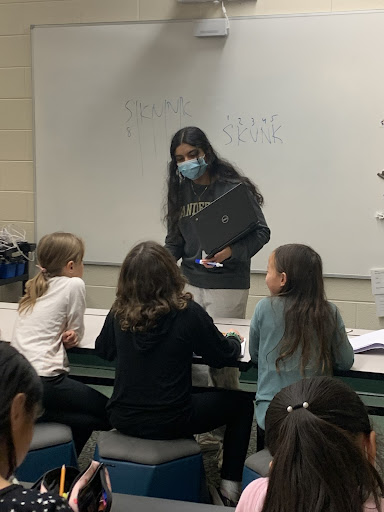 Nidhi Ram introduces a new concept during a meeting
One of Nidhi's favorite activities is teaching girls about influential women scientists and mathematicians. This is often in the form of introducing them to a few women in STEM at a time and then creating a scavenger hunt to see how much information they retained. "I always tell them I don't care if you forget everything I've taught you. I just want you to remember some of the women's names and that you had a good time," Nidhi says.
Women are historically underrepresented in the field, and girls are often discouraged from pursuing STEM-related careers. "We form internal barriers thinking math is not for us, math is hard, we won't be able to do it," says Nidhi. She compares the situation to the chicken and egg debate. With role models and representation, it is easier for girls to see themselves in the field, leading to generations of continued underrepresentation. Reaching out to younger generations is critical to dismantling these stereotypes. Math 4 Girls not only encourages girls to pursue their interests in STEM but also provides them with role models, like Nidhi, in their community.