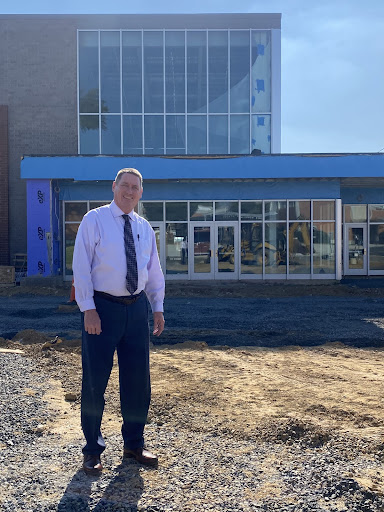 As everyone is well aware, Lower Moreland is currently building a brand-new high school, but few know about the process and the small details that go into such a big project. Mr. Miles took the time to explain where they are in the process, answer some common questions, and give his perspective on the building process.
First, Mr. Miles is most excited to get students and teachers into the building and watch the excitement on people's faces as they see their new school for the first time. Few people have the opportunity to build a new school, and he is very excited to be a part of the process.
Like any change in life, Mr. Miles will miss parts of the old school. He's been in this school for almost nine years and uses the analogy of moving homes. The new address will be 545 Red Lion Road rather than 555 Red Lion Road, and although the school isn't moving far, daily life in this new "home" will be quite different.
"It's new, it's modern, but there are always things you miss about your old home," says Mr. Miles.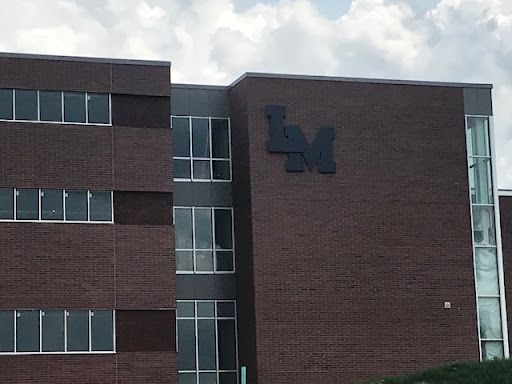 LM logo installed on the front of the school
As for the students, he thinks they will be most excited about the natural light, open spaces, gym, cafeteria, and alternative learning spaces. These spaces include the learning stairs, nooks, and a courtyard. In many ways, the new school will look like a college campus.
When it comes to the rules and procedures for using these areas, nothing is set in stone. There will likely be a check-in or hall pass system put into place. Mr. Miles anticipates that seniors will be allowed to use these areas during study halls in the spring. However, students will be expected to take care of and respect the space.
The courtyard will consist of a lot of open space between different wings of the school, and Mr. Miles anticipates students will use the area to walk between classes, possibly eat lunch outside, and even have some courses in the new space.
This process has been going on for a while. Back in 2019, almost five years ago, a conversation came up in the administration regarding running out of space for students. They weighed the options of adding more modular classrooms, similar to the rooms in the language hall, and what the monetary costs would look like. Then, they asked the question of whether it would just be more sustainable and financially beneficial to build a new high school.
Once the decision was made, various people contributed to the process, including many stakeholders, such as teachers, parents, students, and staff. Everyone was asked what they would want to see in a new school, and the two themes that kept popping up were natural light and alternative learning spaces, and both became the forefront of the design.
Architects presented several different ideas, and there were many end-user meetings to consider the opinions and ideas of people using the space, such as academic departments, athletic coaches, etc. It was a balancing act between meeting everyone's needs, staying on budget, and sticking to the tentative move-in date, but Mr. Miles is confident that this will be a space everyone will love.
As principal, this process was a huge learning curve for him, and there were many unexpected challenges along the way. The team needed to select new furniture, design a new fitness room, install a kiln for the art department, create a layout for science labs, and so on. This required a lot of feedback and many long conversations.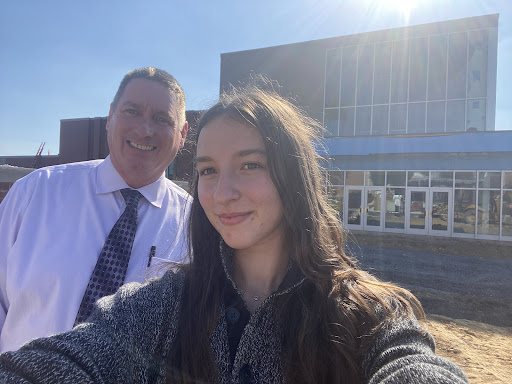 Newspaper writer Angelina and Mr. Miles smile for a selfie in front of the new school after their interview
One small detail that Mr. Miles had yet to consider was selecting keys for the several rooms in the building. The keys have to have a structural commonality, and the team also had to figure out who would have access to which rooms. Mr. Miles says figuring out that crucial yet small detail took hours.
With a new school comes new technology, and Mr. Miles is excited to give students and staff the opportunity to use the upgraded tech. Classrooms will have a short-throw projector that uses the whiteboard as an interactive background. All the technology will have the same functionality, be updated, and be user-friendly. There will also be many message boards and screens placed throughout the building to display advertisements, upcoming events, club meetings, etc.
Mr. Miles also addressed the two things that aren't being added to the new school: the auditorium and pool. Instead, the current high school auditorium will become the district entertainment center and will be used for several events. As for the pool, it is a relatively close walk over to the old school, and there is even talk about moving the swimming unit to the middle school.
February is still the tentative move-in date, but there will be visits for students to walk through the building before then. There will also be some opportunities for community members to see the building.
Many students and staff are concerned about the time given between classes. Mr. Miles says it will likely increase to four minutes rather than three, but there will be a common understanding that people are adjusting to a new environment, and it will take some time to figure out routes.
"While school is serious, I don't want to be so serious about it. I want to enjoy all the fun that's surrounding moving into the new building. We'll all figure it out. Teachers are going to get lost; even though I know the building pretty well, I'm still going to get lost, and students are going to get lost. We have to enjoy the newness together and embrace the discomfort," says Mr. Miles.
Overall, Mr Miles, like everyone in the community, is very excited for such a significant change right around the corner!