Dear Lomo – A School on Fire
Dear Lomo is a brand-new segment of the Lion's Roar. Each issue, we let readers submit questions about the school and community, for a chance to be featured.
Question:
"What happened with the Murray Avenue fire in the 1940s?? I need to know more about it!!"
Answer:
Many thanks for the enthusiastic inaugural question in the Dear Lomo series. The school currently known as the Murray Avenue School was formerly the Lower Moreland Middle School. On an early October morning in 1967, a fire broke out at the school, due to a cause that could not be uncovered.
Information on the fire was surprisingly difficult to come by. The search led me to the Voices of the Valley, a history book about 20th-century life in Huntingdon Valley, compiled by authors Rachel Brandt and Carol Terry. It features a series of accounts from former and current residents of Huntingdon Valley.
Here's an account from Margaret Williams, a lifelong resident of Murray Avenue (the street): "The fire was in October, 1967. It was a horrible sight to watch that fire spread and in the final stages to see the walls collapse. Murray Avenue was mobbed with people watching the disaster. Many people were crowded into my front yard too. Fortunately the wind was blowing toward the woods behind the school, so the houses on our street were not in danger, but we could feel the heat!"
Audrey Mary Pletcher Woodard, a teacher at the former Lower Moreland Middle School reminisced, "Remember the school fire in 1967? Ellen Redmile called me at 5:00 in the morning. She asked me if I was coming to work. I wondered why she called so early! Then she said, "You better get down here right away, the school is on fire!" I drove down there in a hurry. There we were, all crying! Then we had to move up to the Methodist Church and classes were there. I wasn't a teacher, I was a helper. Charlie Shafer was Vice Principal then."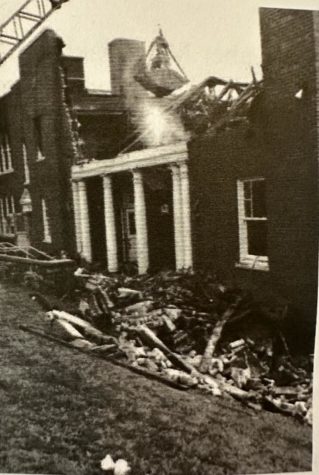 These accounts offer fascinating glimpses into the events of the fire and the community's response. For more descriptions of life in what was truly a  different world, it is highly recommended to read the Voices of the Valley, which is available for sale at the Huntingdon Valley Library. 
Want to have a chance to be featured in the next issue of the Lion's Roar? Submit your burning questions to the Dear Lomo form.