Turks and Caicos Islands Offer a Relaxing Winter Getaway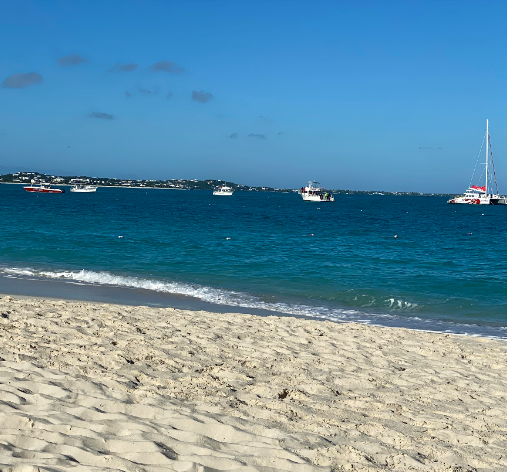 I recently visited the Turks and Caicos islands, a tiny British overseas territory in the Caribbean. My family and I stayed at Alexandra Resort, an all-inclusive vacation resort on Grace Bay Beach. We chose Turks and Caicos as our vacation destination because the World Travel Awards voted the island the world's best beach in 2022. Turks and Caicos is a destination for pristine reefs: its relaxing blue waters and a cornucopia of sea life offer travelers the best snorkel and dive experiences. In addition, the island has a wide variety of water sports offerings, including everything from remote-controlled surfboards to world-famous kiteboarding locations and custom-tailored boat excursions.
Turks and Caicos offers various dining options, from the most casual lunches and dinners to fancy five-star restaurants. The food I tasted was delicious, fresh, and flavorful. My favorite dinner was a surf-and-turf dish with filet mignon and lobster on top of rice and vegetables served in the Black Rock Steakhouse restaurant. There is a variety of local fruit to choose from on the island. Locals take special pride in creating freshly-made juices and smoothies. 
The island's climate is as perfect as it gets. The average temperature is 83 degrees Fahrenheit with the hottest month being September. Rainfall is sparse, with most islands getting less than 30 inches of precipitation annually and plenty of sunshine daily. The primary language spoken in Turks and Caicos is English, but Creole and Spanish are often heard as well. The official currency is the US dollar, but travelers' checks and major credit cards are universally accepted.
There are many activities to explore on the island. During my stay, I visited Turtle Cove and the environmental center located on Provo's North Shore to explore the island's land and sea inhabitants. I was also lucky enough to visit and experience historical Cheshire Hall ruins. These remnants of a 19th-century Loyalist plantation in Providenciales provided insight about the lives of the island's early settlers. Additionally, I had a lot of fun using a paddle board and kayaking in the warm waters of Grace Bay Beach. However, the best experience I had on the island was parasailing. It was a breathtaking and memorable encounter to view the island's beautiful and endless sandy beaches surrounded by stunning and calming turquoise waters from above. Please visit the islands to see for yourself. You won't be disappointed!