New Season Signals New Beginning for Boys Basketball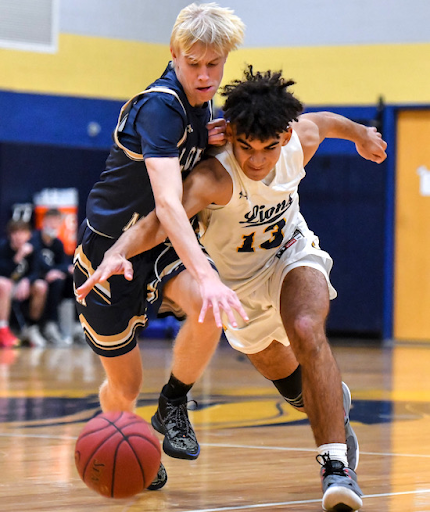 After a difficult 2020-2021 season in which the Lower Moreland Boys' Basketball team finished below .500 and missed the district playoffs, this season's team hopes to move in a winning direction. Senior Captain Brian Grant stated, "With a Covid season last year and having to be in Suburban One for the first time, it was tough. But this year our hopes are to win the league." At this point in the 2021-2022 campaign, they are 2-0 in league play and 2-2 overall. So, how did they get here?
On December 10th, the Lions traveled to Council Rock South to begin the season. Although it was a non-league game, the team hoped to start off on a good note. The absence of key rotational pieces Braden Alicea, Ian Alicea, and John Kroll proved to be too much for the Lions to overcome as they fell 59-38 to the Golden Hawks. After a strong first quarter, LM was held to only 2 points in the 2nd quarter, creating a deficit they could not surmount. Despite the marginal loss, the team's seniors led the way. Matt Ernst finished with 13 points, 5 rebounds and 4 assists. Brian Grant had 8 points and 3 rebounds. Mike Pennisi scored 7 points and also grabbed 4 rebounds.
To open up league play, the rival Upper Moreland Bears traveled to Lower Moreland on December 14th. In the first game allowing fans in Lower Moreland's gym in almost 2 years, the students made sure to seize the opportunity and cheer on their school. In a bounceback effort, the Lions used a dominant 2nd half to beat UM 64-49. LM won the 3rd quarter 22-11, ultimately leading to the 15-point win. Upper Moreland's big 3 of guards Byron Hopkins and Bo Meakim and big man Matt Tierney carried the way for the Bears. However, the strong defensive efforts of Lower Moreland, along with balanced scoring, helped lead the Lions to victory. Matt Ernst scored 16 points and added 5 rebounds and 5 assists. Braden Alicea had 15 points and a team leading 7 rebounds. Captain Brian Grant scored 7 points. Mike Pennisi had 9 points and 6 rebounds. Sophomore John Kroll finished with 9 points, 6 rebounds, and 5 assists.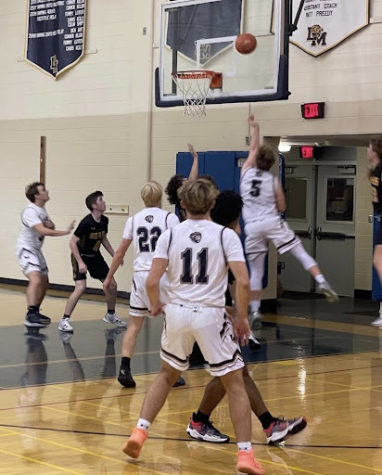 The Lions were back on the bus on December 16th, when they traveled to Conwell Egan Catholic High School to play the Eagles. In a non-league matchup, the Lions fell in a close one 57-53. After being down by 9 at halftime, the Lions were able to cut the deficit, but not enough to make the comeback complete. Contributions from LM in this game included 9 points from Brian Grant, 10 points, 4 rebounds, and 3 steals from Braden Alicea, and a team leading 21 points from John Kroll.
Just a day later, on December 17th, Lower Moreland was back on the road, this time traveling to New Hope-Solebury for their 2nd league game of the young season. In this defensive battle, the Lions overcame a 1-point deficit at halftime to win 47-36. After being down 14-13 at intermission, LM's 34-22 second half resulted in a win, making them 2-0 in league play. The scoring was once again balanced as Matt Ernst scored 9, Brian Grant scored 10, and Braden Alicea scored 12.
Although the season has just begun, Lower Moreland's Boys Basketball basketball team looks to have the makings of a competitive team. Head Coach Seth Baron, when asked about his team's start to the season, said, "I am optimistic about the season.  The team is working hard and we've seen a lot of that roll over into the games. Brian Grant has been a great captain, showing the team what a strong work ethic looks like." Despite the struggles in non-league games, the 2-0 start in league play puts the Lions on pace to achieve the goal Captain Brian Grant set out for them. Senior Mike Pennisi stated, "Just joining the Suburban One League last year, we don't have an identity yet. So every night our team goes on the court, we have something to prove to everyone out there. We want to make it known we mean business." Senior Matt Ernst also added, "We have started off somewhat slowly, but there is much more to come." The Lions are set to continue their quest towards their first league championship since 2019 as they face undefeated Cheltenham High School on the 21st, followed by Springfield Township High School on the 23rd. Over winter break, the boys will participate in the Bensalem Holiday Tournament. While the season has just begun, there is a lot to be excited about for LM basketball fans.