Lower Moreland Mini-THON: Making History
On Friday, November 19, Lower Moreland held its first in-person Mini-THON after two years, celebrating fourteen years of THON and its fifteenth Mini-THON overall. This year, there were nearly five hundred participants, about eighty captains, and six THON Heads. During a time of great adversity, the students of Lower Moreland made history, managing to raise over $200,000 for the cause of eradicating childhood cancer. Although Mini-THON may seem to be just an after-school activity and fundraiser, to these students it is so much more: it is a family. 
Within Mini-THON, there is a network of thirteen committees led by captains who work day and night to put together the best THON possible. Captains are selected during their sophomore year through a series of interviews. Aspiring captains that distinguish themselves have the opportunity to interview for a position as a Mini-THON Head-an individual who oversees all of the committees.
This year's senior Thon Heads were Lizzy Bond, Kylie Tammaro, and Naina Devgan. Last year, a decision was made to curtail fundraising for THON – the THON leaders still raised $23,000 – so the girls set out to break Lower Moreland's fundraising record in 2021. 
The junior Mini-THON Heads, Leah Levitan, Dimore Hananel, and Matt Gannon, under the guidance of the seniors, now prepare to take charge in the coming year. When asked about her reaction to becoming a Mini-THON Head, Leah distinctly recalled the excitement she felt.  
"I was in my car and [the interviewers] FaceTimed me and told me about an hour after my THON Head interview. I didn't cry on the phone but I cried immediately after. I remember asking who the other heads were and they told me they didn't tell them yet. About five minutes later I was put into a group chat with Matt and Dimore and literally screamed. I was pressing the button to go FaceTime Dimore and she beat me to it. I never will forget that moment."
Leah felt an immediate sense of community and support. To her, Mini- THON was not only a valuable experience, but it also changed her life, allowing her to form new, irreplaceable friendships.
"Kylie, Lizzy, and Naina are some of the most encouraging and passionate people I know. The three of them put their entire hearts into Mini-THON and their guidance is reflected by that. They supported me, Matt, and Dimore throughout the entire season, and were always there for us if we had a question or needed to solve a problem. I love them so much."
History was also made when the juniors won THON for the second time, thanks to their win in both the Lip-sync and the Dance Battle — two of the most popular competitions. In the Lip-sync, the junior boys sang along to Teen Beach's "Cruisin' for a Bruisin'". The impressive choreography was created by Dimore Hananel, Sarah Rosala, Ian Alicea, and Ashton Feldman. To Ashton, Mini-THON was an invaluable experience.
"Performing in the Junior Lip-sync was one of the best feelings I have had. Seeing the work we put into it and having fun while performing it at Mini-THON was awesome." 
Ashton Feldman, Junior Class Representative, joined the Mini-THON family later in the year. Although he joined later than most, he played an integral role in securing the Junior Class's win. When it was announced that the juniors had won Mini-THON, Ashton's excitement and sense of accomplishment was like no other.
"It was an amazing feeling when we found out that we won THON. We were all shocked since it has never been done before, but I knew both the girls dance and the Lip Sync dance put in a lot of effort to get the win."
Ashton's two favorite memories from THON were finding out that the juniors had won and, like most, seeing the amount of money that Mini-THON had raised. When asked about their reactions to finding out that THON raised $202,337.88, the THON Heads and captains had a lot to say:
Lizzy Bond, Senior Head: "I don't think I can describe the feeling of knowing we raised $202k… the rush of pride and exhilaration was unlike anything I experienced before. To see months of hard work come together, work that will go towards providing families of pediatric cancer warriors with care, housing, and research, was the best feeling in the world. I will remember that moment forever, and am so proud of the captains and my co-heads who worked tirelessly to make it happen."
Andy Yang, Senior Captain: "Standing there and seeing that number for the first time was…indescribable. It really was a "we did it moment". Coming out of the pandemic and from a virtual Mini-THON, I'm sure everyone was skeptical about how this year would go. We weren't even sure that we would have a Mini-THON. In the end, this number was the result of the hard work of everyone on the leadership team and all the generous donations from dancers and businesses."
Phil Uliano, Junior Event Captain: "When $202,337.88 was revealed I felt as if time paused… 
My body went numb and all I thought about during that moment was all of the hard work each and every captain put in to achieve that number. I simply broke down and cried, the countless hours of work and overall dedication shown by a group of teenagers is unmatchable. I could not have asked for a better group of people to make history with. I will never forget that moment."
Anya Yang, Sophomore Tech Captain : "I was very surprised. I think it was a little different for me than others considering this was my first year attending and being a captain as a Sophomore; however, watching everyone cry and look in awe at the numbers made me so happy… I think that the 202k is amazing and truly made a spectacular night but, to be frank, I would have been extremely happy with any number up there because knowing that high schoolers came together and collaborated and had a common goal of helping kids with pediatric cancer is an amazing accomplishment in itself."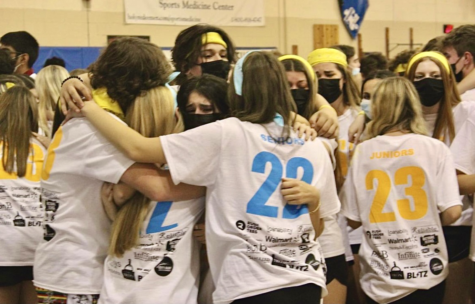 Over the past fifteen years, the Lower Moreland Mini-THON has raised over 1.5 million dollars and continues to aid in the fight to conquer childhood cancer. As the THON season comes to an end, the seniors once again pass the torch to the juniors, knowing that they will continue this legacy.