Want to "B" at Home? No Problem!
Family Meal Deals are a steal! While Covid is still keeping us at home, there are many fine restaurants that are providing family meal deals, so you don't have to eat out!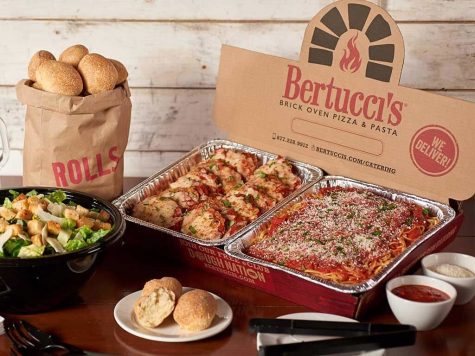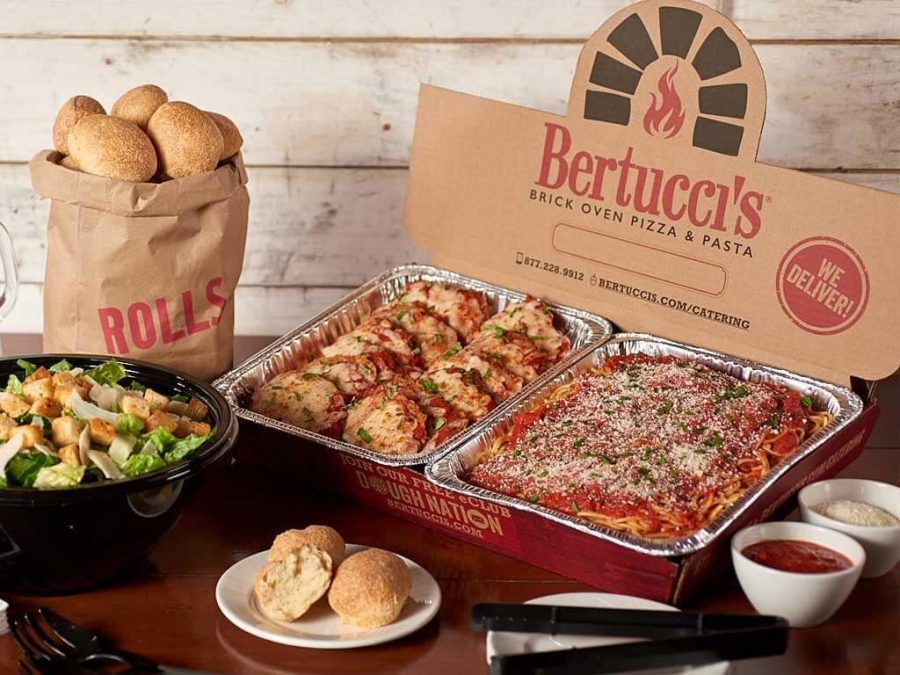 Bertucci's Brick Oven Pizza and Pasta
In the mood for something Italian? Bertucci's Brick Oven Pizza and Pasta might tickle your tastebuds. Their Daily Meal Deals allow you two options. The first option feeds two for $20 and the second option feeds four for $36. Each day features a speciality entree. Monday is Spaghetti and Meatballs. Tuesday features Rigatoni Abruzzi (roasted peppers, sweet Italian sausage and rigatoni tossed in a mildly spicy tomato sauce). Wednesday is Chicken Damani (Sauteed chicken tossed in a white wine sauce with gemelli pasta and spinach, finished with Asiago cheese). Thursday's entree is tasty Chicken Parmesan. To kick off the weekend, seafood lovers will enjoy Bertucci's Shrimp Rossini (Sautéed shrimp in a tomato cream sauce with capers and a hint of hot pepper, tossed with spaghetti and finished with a sprinkle of shaved cheeses). On Saturday, my personal favorite, Chicken Piccata (Lemon, capers, in a creamy white wine sauce, with Pecorino Romano & fresh herbs, served with egg fettuccine), and then to end the week on Sunday, the Four Cheese Ravioli. All meals are served with their famous freshly-baked rolls with dipping sauce and house salad. If you're not a fan of one of these dishes, but still want the deal on that day, Bertucci's has 2 large Signature Pizzas available. My family's favorite days are Mondays and Saturdays.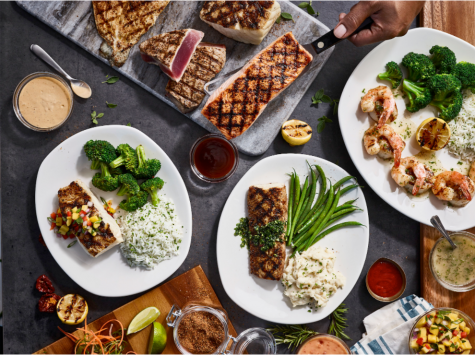 Bonefish Grill
Want to feel like you're back on vacation? How about some food from the bay? Bonefish Grill calls their family meals "Family Bundles." There are five different Bundles, and they range from $29.90 to $49.90. There are four lightly seasoned grilled options: Salmon, Mahi Mahi, chicken and Mahi + Shrimp. The other two Family Bundles are their Signature Bang Bang Shrimp Tacos, served with warm flour tortillas, shredded romaine, tomatoes, and lime sour cream. Lily's Chicken (wood-grilled chicken topped with goat cheese, artichoke hearts, sautéed spinach, and finished with a lemon basil butter sauce). The bundles include a large house salad, bread with pesto dipping sauce, and warm chocolate chip cookies. for dessert. The Salmon Bundle is a family favorite. While these bundles are on the pricier side, they can feed up to six people.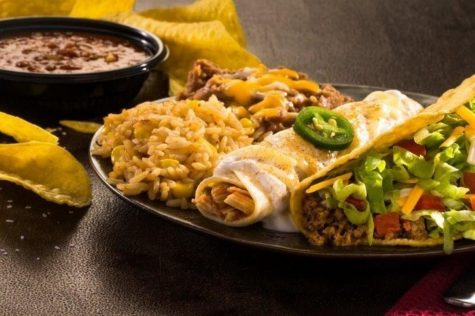 On the Border
Hola! Are you "On the Border" for Mexican food? OTB's family meals are served with a large bag of their famous chips & a side of spicy salsa, Mexican rice and choice of beans. Family Meals serve 4-5 people although the portion sizes are big and there are six entree combos to pick from. They are Classic Fajita (any grilled chicken, steak, or pork strips accompanied by peppers and onions that are usually served with a side of flour tortillas), Build your Own Tacos, Tacos and Cheese Enchiladas (Choice of seasoned ground beef or chicken tinga tacos and cheese & onion enchiladas served with lettuce, cheese and tomatoes), Just Enchiladas (A corn tortilla rolled around a filling and covered with a savory sauce), King Ranch Mexican Casserole, and lastly, Veggie Mexican Casserole Family Meal. Most family meals are $19.99. The fajitas are especially delicious at On the Border. 
Regardless of which restaurant you choose, they are all excellent choices that are a great value and will make eating at home just the place to "B."